Job interview today! The only non-administrative job I applied for -- of course that would be the one I get an interview for. Sometimes I wonder why God keeps me out of the corporate world so fiercely.
The position I interviewed for is an "assistant to the innkeeper" position at a local bed and breakfast. The
Clay Corner Inn
, to be exact. It's lovely and relaxed and has the charm and personable workers that suit a small business. I would be a general help: housekeeping, laundry, some in the kitchen, some at the front desk. It's not my dream job, of course, but I think it would be enjoyable for the time being; the people seem pleasant, and there is the simple joy of "good, honest work," as the proprietor kept calling it. I should find out by the end of the week, I believe.
This interview came at the same time as an email in response to another job I applied for -- but this one quickly became obvious to be the very opposite of legit. A realtor needing a personal assistant because he travels so much (currently in Dubai?!), never mentioned a company name, terrible punctuation and grammar -- not at all how a businessman would compose an email or hire an assistant. After the second email, Andrew and I looked at each other and said, Wait a minute... I'm glad we realized the falsehood so quickly, but I feel silly for being taken in at all.
----------------
After a long and drawn out conversation about whether or not we wanted to just order pizza for supper, I left Andrew to study for his exam on Wednesday, and I pulled vegetables out of the freezer. We've been eating a lot of summer veggies, like summer squash (mmm!), zucchini, and corn on the cob. We had two ears of corn left, and I remembered a recipe I cut out from Everyday Food ages ago. What else can you do with fresh corn?
Corn Fritters! Yum!
My camera is still quite unresponsive (CPR doesn't work on electronics), but they look something like this: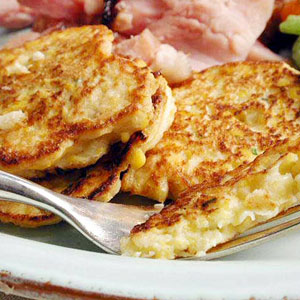 See? Yum! Fresh corn and sweet batter, fried golden brown. What's not to love?
I used the recipe from
Everyday Food
, which you can find
here
. I modified the ingredients a little to fit what we already had in the cabinet: we only had two ears of corn, and I substituted Jiffy Mix for cornmeal. I kept all the measurements the same, just had a little more batter than corn, which was good, since we could really taste the sweet batter along with the sweet corn.
I highly recommend these guys. Different, but delicious.